So, if ya'll have checked out my
latest podcast, "Everything in New Mexico Wants to Kill You"
you know I've been running into WAY TOO MANY scary creatures out on the trails...Well, the most recent critter surprised me and the dogs. In the video you can hear me situating Bender Oak behind me, and "yell whispering" to Pepper to get back!
Also shared on....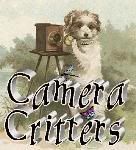 Be sure to check me out on my latest venture, the Turquoise and Beef Jerky Roadshow! We podcast and Vlog about unique travel places, camping, DIY & Frugal Travel, plus alot of stuff about the dogs :)